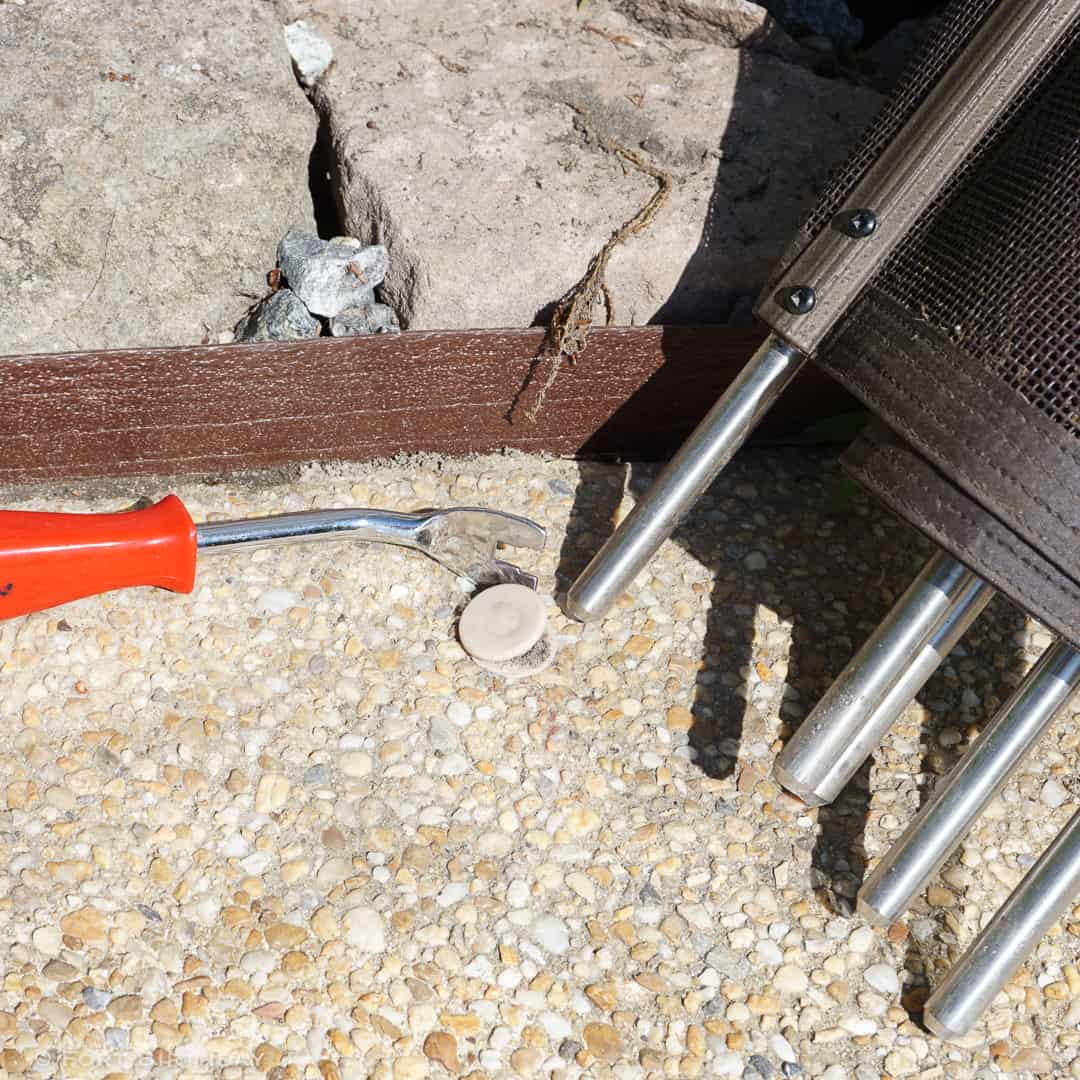 Pool Fence DIY How I installed and use my removable pool fence
Last summer I did a removable pool fence DIY installation around my pool. Putting it up this spring was so easy and such a stress relief. This is not a sponsored post, I am passionate about water safety and want to share how well this worked for us.
Twin toddlers are the living embodiment of "I only turned my back for a second." Last year, they were small enough I never had the two of them out of my sight. This year we are encouraging independent play (especially outside) so the pool fence was necessary.
Do you need a pool fence: YES
Can a Pool Fence DIY install be safe: Also, Yes.
Many USA jurisdictions require pool fences – because our lot is larger than 1 acre, our county did not require one. So why did we bother?
Top causes of residential drowning
Lack of swimming ability
Lack or failure of barriers
Lack of supervision
Lack of Swimming Abilities and Floaties
We address the first issue by enrolling our twins in ISR swimming lessons when they were 16 months old. By age 2 they were capable of falling into the pool, swimming to the surface, floating on their back, and swimming to the edge of the pool.
We do not put out kids in floaties. Floaties have a few major issues. First, they give kids the impression that they have the ability to swim. This can lead to false confidence when kids get access to water without them. Second, it teaches kids to be most comfortable in the pool feet down head up. This is referred to as the 'drowning position' in the swim safety world. Lastly, unless they fit absolutely perfectly, they can restrict motion (if too tight) or allow a child to slide out of them (if too loose).
I know this is preachy – but consider your options before you put a kid in a Floatie or water wings.
Drowning is the second most common cause of unintentional injury related death for kids ages 1-14
Drowning is the second most common cause of unintentional injury related deaths for children ages 1-14 (behind car crashes). 80% of people who die from drowning are male. Drowning disproportionately impacts Black and Indigenous American youth communities – a Black child is 5 times more likely to die from drowning than a white child.
Contact your local rec center and see if they offer free lessons. Or look at PoolSafely.gov for resources for parents.
Lack or failure of barriers
Pools should be protected from unsupervised access by children.
Bottom line.
I'm sorry I hadn't done this before. I am convinced now, that my removable pool fence lets me sleep better at night. I know if one of my kids sneaks out of the side yard, or slips away when we are out front, there is less chance of him ending up in the pool.
Be aware that not all residential drownings occur at home. Children are often less supervised when visiting another home for a party or event. Even a neighbor's unsecured pool presents a hazard.
Lack or failure of Supervision
I'm going to come back to this at the end. But, long story short, you may be increasing your child's risk by HOW you watch them at the pool.
Why Pool Fence DIY
The primary reason is $$$.
The materials, shipped, for our fence were in the neighborhood of $1600. This is less than half of the cost of a permanently installed fence.
The labor to DIY the fence took me around 10 hours working, by myself. The posts for a permanently installed fence would require digging and pouring cement for around 36 posts (!!). I can't tell you how long that would take, but UGH. I don't want to find out.
The Removable Pool Fence we chose preserves our view
The brown mesh of the pool fencing is less of a visual obstruction to me than a traditional metal fence. And because it goes into storage for the winter we only have to look at/through it for six months of the year.
Less maintenance, More convenience
Last fall, removing the fence, rolling up the panels, and stowing it in our shed took me around 2 hours. Keeping it out of the weather six months of the year doubles the lifespan.
When we moved our patio furniture this spring, we pulled out a couple panels so we didn't have to 'pivot' the large sofa through the pool gate. It seems trivial, but quickly and easily removing the panels means we can take them down for a party to enjoy the view and improve flow around the pool and put them back up before the night is over. We actually did this last weekend.
Harder to Climb than a traditional fence
My toddlers will climb anything. Guess what they can't climb? The continuous mesh panels of our removable pool fence.
What Pool Fence DIY is the best?
We chose an ASTM – 1346-91 certified fence from A Safe Pool. I can't say enough nice things about the owners, Jason and Tonja who walked me through ordering the fence and followed up with me to make sure everything worked well.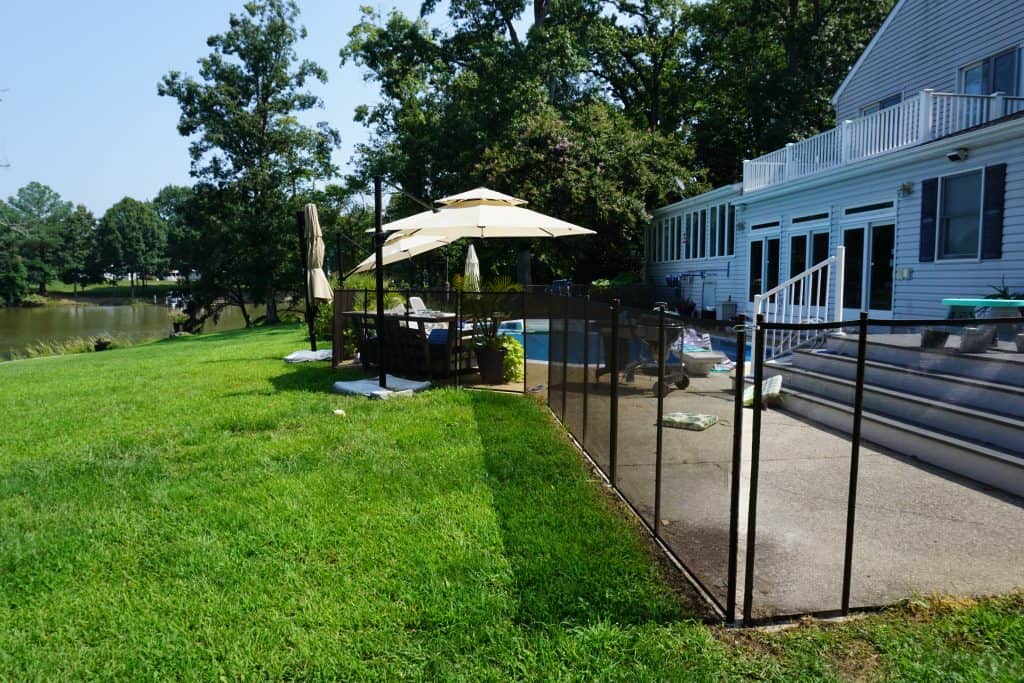 We picked a 48 inch fence in brown with two self closing (and lockable) gates. A Safe Pool uses the highest quality mildew resistant mesh with four rows of stitching on the outside boarder. We picked them for the sterling reputation of their product and their lifetime manufacturer's warranty.
How I did a Pool Fence DIY installation
I started by measuring the perimeter of the area we would enclose. Ordering the fence, ordering the tools, and making a plan for drilling the holes, marking the pool deck, drilling the holes, installing the fence, and installing the gates.
A note on our three sided fencing
The safest way to enclose your pool is on ALL FOUR SIDES.
Our pool is on the 'old' side (installed in the 1980s) and the owner expanded our house in the 1990s to around five feet from one side of the pool's edge (2.5 feet of that is steps down to the pool from sliding glass doors). This left an insufficient amount of space between the pool and the house to run fencing that would allow a child to easily climb out of the pool.
This leaves our enclosure massively compromised. Because the sliding doors are the only means of easy entry to the back yard we elected to install automatic locks on the doors rather than seal them shut or use an alarm. Alarms get ignored. But that's a different post than pool fence DIY.
Also, a fence is only as good as the entrances. So automatic locking doors and gates are a must.
Plan your pool fence DIY carefully
Read your installation guide closely. I also used several online resources (youtube, etc) to make sure I was putting the proper angles in the proper places; this is the hardest part about Pool Fence DIY. It's not 100% intuitive, and I can't even do a great job of explaining it, other than to say: if you don't think your angles through carefully your fence will bow or sag. I mapped out the entire thing, of course, I can't find my map to show you, but it's labeled Pool fence DIY.
Drill the holes
To ensure I drilled the correct angles, I purchased this drill guide. I used a Bosch rotary/hammer drill we already owned, but they are easy to rent. Larger poles may require core drills.
Once I planned where to drill that holes and which angles to use it was easy enough. I spent a lot of time marking my measurements, double checking my layout, and scratching my head. Measure twice, cut once. For the entire install I drilled 50 holes, and really only messed up 3 of them. I could 'fix' my mistake by slightly altering the fence path to re-drill safely and accurately.
Install the sleeves and your Pool Fence DIY is nearly done.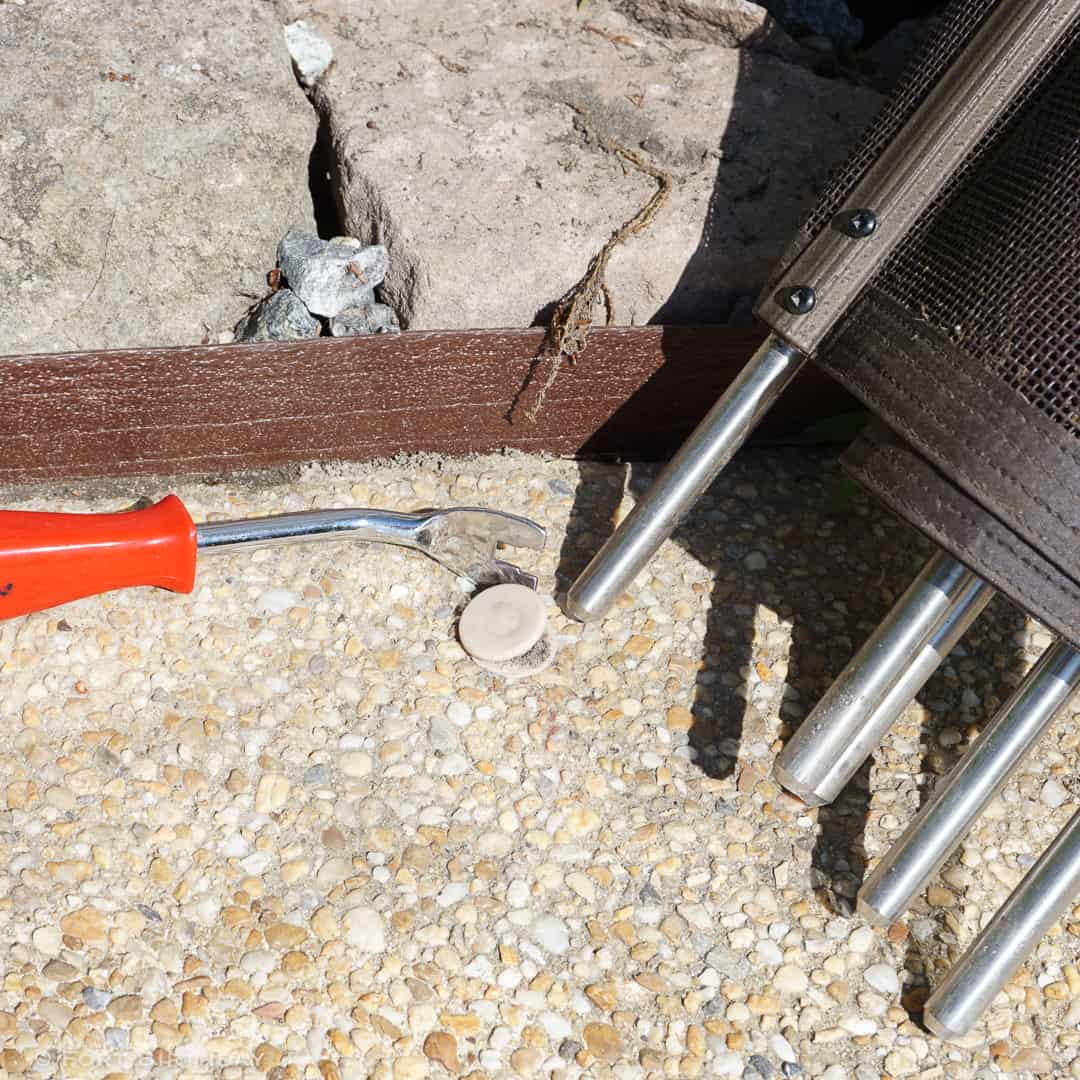 Once the holes are drilled you insert a plastic sleeve. Then you install the fence from one end to the next clipping the separate sections together with childproof hooks that you can lock. This tensions to the top of the fence giving it stability and keeping the top taught.
The fence is connected to fixed points at either end of my removable pool fence. On one side it connects to a rigid section of aluminum fencing using an aluminum bar. On the other end it connects to our house. I made sure I was putting the eyebolt in a stud and that it is completely secure.
Taking down the Pool Fence for the winter
Last fall I waited for a dry day and removed the fence and tightly rolled each section. I then snapped the covers on the decking sleeves to keep out dirt and improve the look of the pool deck with the fencing removed.
One year later, my DIY removable pool fence installation
I re-installed our pool fence the day we removed our winter cover. I hated myself the entire time because I didn't label the individual custom cut sections, so I had to lay the entire thing out and move things around until I got all the pieces back in the right order. Next fall, I will letter them A-J and label which gate goes on which end and hate myself a little less next spring.
I'm making a concerted effort this spring to let my kids play outside unsupervised more. I would never consider doing this without the pool fence. Fences only work as well as their gates, so I do check and recheck latches, locks and gate functioning to make sure a carelessly left open door cannot lead to the unimaginable.
A note on Pool Supervision
The safest way to supervise children in a pool is to designate a Water Watcher. A Water Watcher should be ONLY attending to observing the children in and around the pool. Safety standards suggest that this obligation should rotate (suggested 15 minute intervals) because it helps focus attention and reduce complacence.
During your time as a Water Watcher you should be off your phone, not reading a book, and aware of every child that in in the pool. If you need to step away or divert your attention for a phone call then be sure to NAME another adult to watch the water and wait until they acknowledge the handoff.
If you have a pool or regularly attend one, at least one adult in your household should be certified in pediatric CPR.
One of my twins is a real swimmer and loves it. We taught him to shout "I'm swimming" before he jumps in or sets off so we know what he is up to. With multiple kids in the water, it's too easy to lose track of one. So consider splitting up responsibility for individual children.
Last notes on Pool Safety
Keep yard objects and patio furniture away from the outside of pool fences.
Keep pool level as high as possible, direct jets towards steps or ladders, have multiple areas to exit the pool.
Teach children to stay away from inlets, drains, or suction outlets
Check barriers regularly for security.
Consider pool alarms or submersion alarms
300 + children die every year in the USA from drowning. Kids drown year round, but are more likely to drown in a residential pool. A removable pool fence can be a real part of insuring your children's safety.
Be safe out there, It's my turn to be the water watcher, so I must sign off and drag my butt into the pool to play with my kids. I know, I know, it's a hard life.
Happy Summer – Leah