What's a swim platform? Quadro Aqua Pool Dock
What's a swim platform? Quadro Aqua Pool Dock
Problem: playing safely in the pool with toddler twins
When we bought our house three years ago we were delighted that it had a pool. A pool with a ripped liner. But a pool. It wasn't until we replaced the liner and filled the pool that we discovered it has a problem. The Slope of Death. This is primarily a problem for day drinking adults (lol). But now that we have toddler twins we've discovered that the usable play area is actually quite limited. Enter, the Pool Dock a swim platform.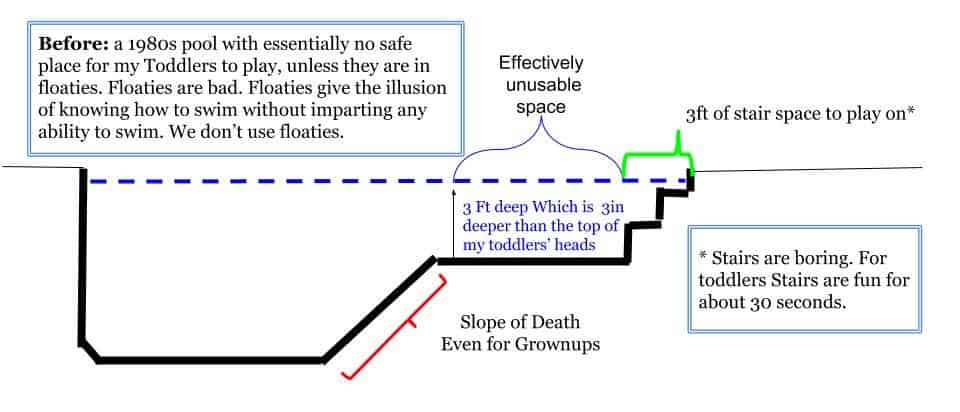 My fantasy is to add a splash pad to the pool, somewhere the boys could splash around comfortably and where I could supervise them alone. But I changed my plans after being in a 'modern' pool with an extra shallow end. What I needed was a way to make my pool shallower…. I began brainstorming.
I am a huge DIY'er. Like: sure, I-can-design-and-build-a-structure-to-put-in-my-pool-to-make-it-shallower kind of DIY'er. After a little bit of research I ran into the typical DIY pragmatism problem: Buying a platform presented less risk (in terms of safety and not damaging the pool bottom) than making one myself.
Solution: A pool dock swim platform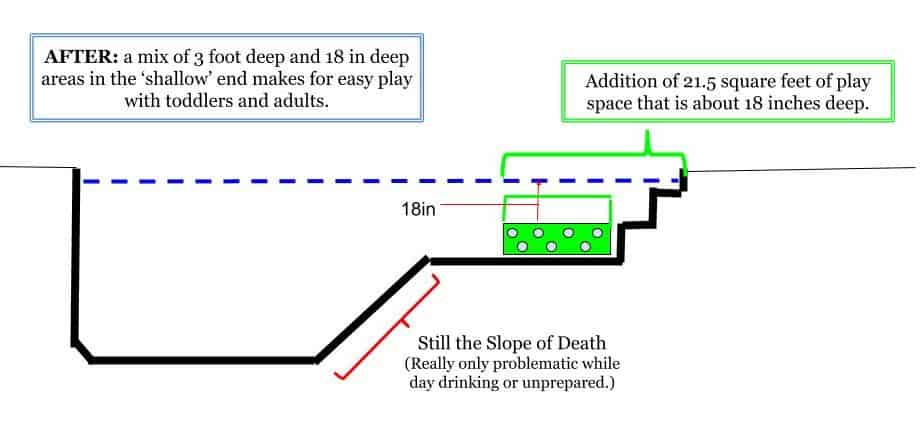 Quadro Aqua relies on a 40+ year old German modular play unit. Distributed in the USA by Pool Docks. They are a flexible and modifiable platform you can put in your pool. I selected the 'Crane', an enclosed bottom swim platform 65×45 inches (about 5.5×3.75 feet – a little more than 20 square feet) with a bar railing along two sides. Around $700 (US) shipped. There are four colors to pick from, or you can do a mix and match. The designs go from ultra basic to fantasy playgrounds in your pool – and they also do custom designs – if you can dream it, then you can build it.
It is a DIY assembly of modular plastic parts that connect using simple 90 degree twist connectors. It is robustly designed and built. Which translates to COMPLICATED. It came with two sets of directions: the first "Generic 'How-To" Assembly Tips (18 pages long) and one specific to my model. I needed to refer to both – over and over again. And there was some amount of taking apart and redoing as I went along.
Once I got the directions out I spent some time familiarizing myself with the parts and then I dove in. The entire process took around 4 hours. This was more complex than an IKEA project, but not more complex than a fancy LEGO model.
Tah- Dah! This attractive swim platform. I'm in love with this.
The pool dock slid easily into the water and easily maneuvered once there. It is slightly buoyant in the water, so I used 3 20lb vinyl coated dumbbells to weigh the structure down (as per manufacturer recommendations). I will probably add a fourth to prevent any shifting that might rub against the vinyl bottom of the pool. It is very stable swim platform.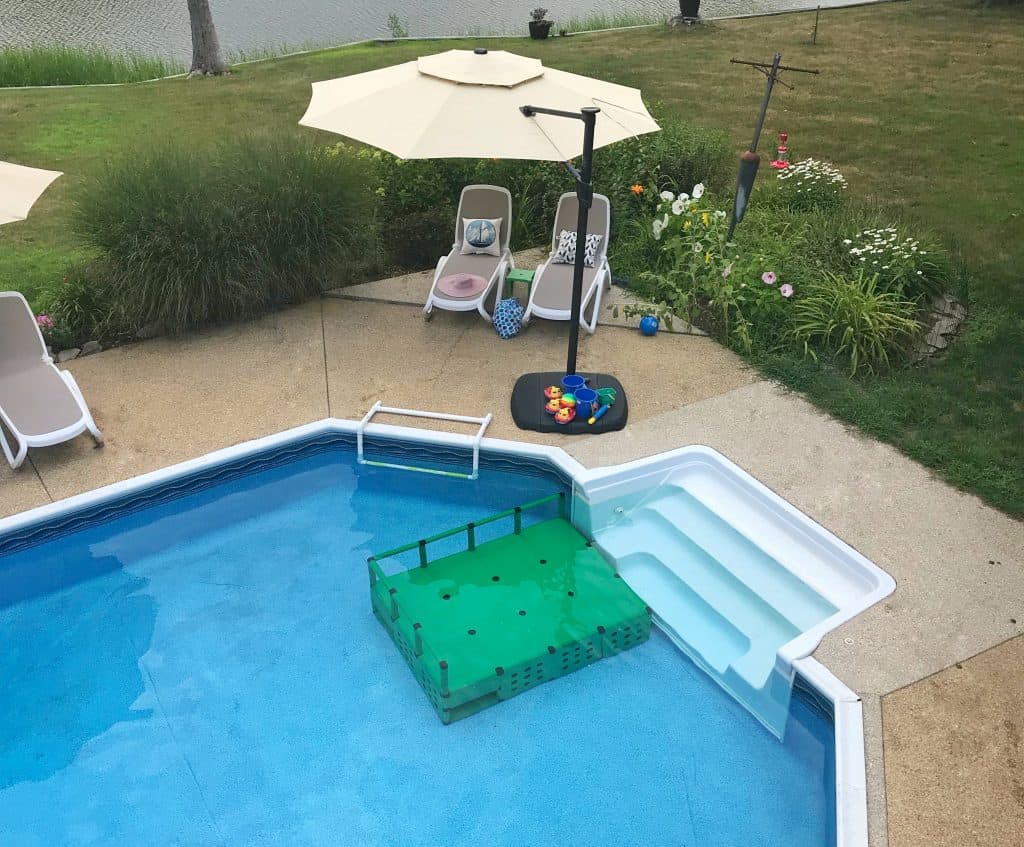 I cannot say enough nice things about this.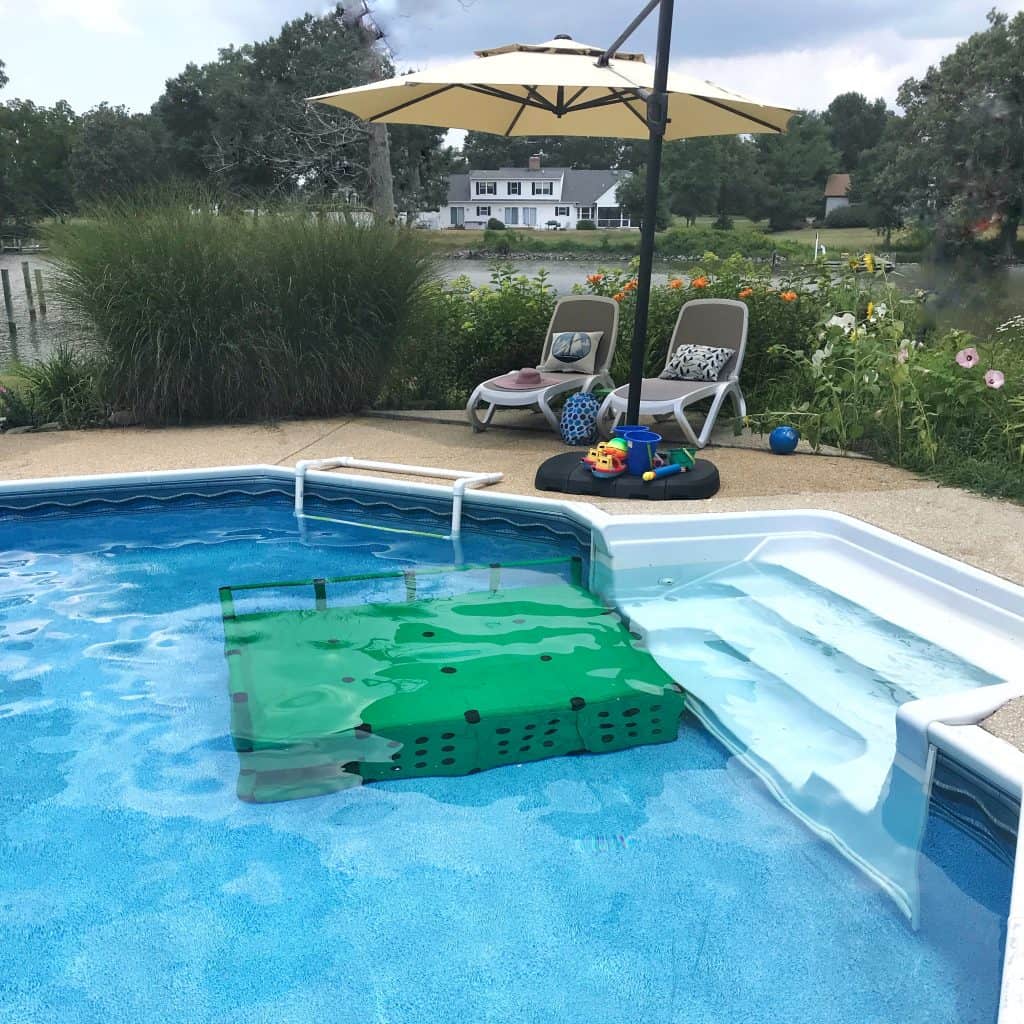 The railing, as you can see in the video, allows for safe exploration of the water and fun. We use it for kicking practice and as a target for swim practice. It's a very useful swim platform (Apparently, I've been watching too much Thomas and Friends).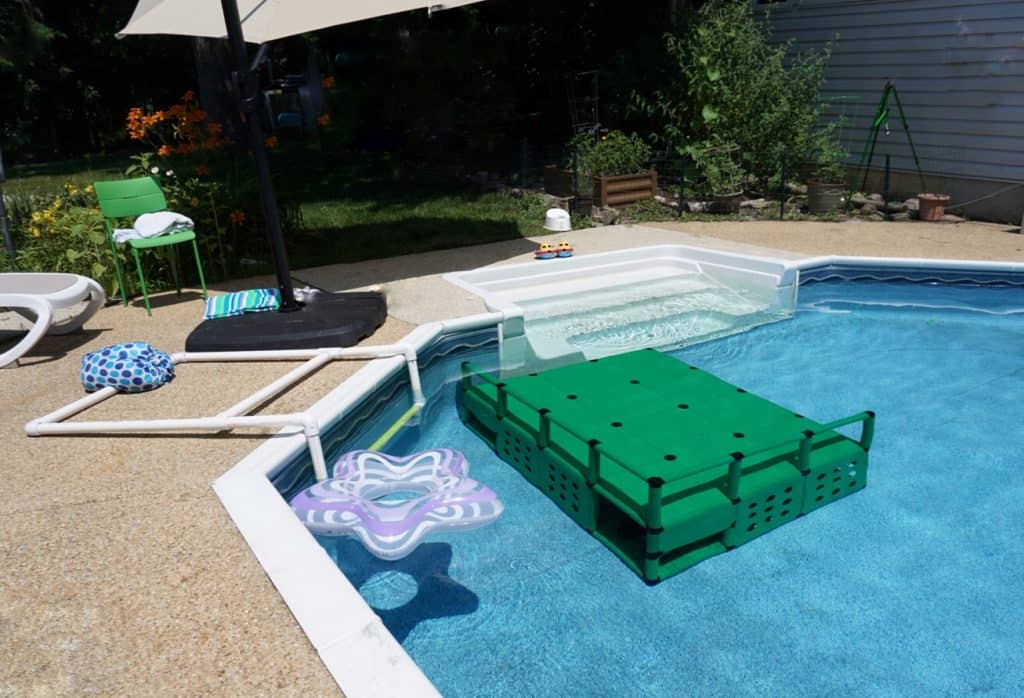 This was a big expense, but worth every penny. The space between the pool dock and the wall has become the perfect area for adults to supervise the twins while they play. And using another bar (DIY'd from pvc) they practice swimming back and forth. Even bigger kids who can swim and grownups have been enjoying using the structure. I'm waiting to see if my dogs figure it out.
Make sure to look next week for an update to: Swim Lessons, Sometimes Being a Good Parent Can Suck. We have just finished week 1 of our third round of ISR swim lessons. And on day 4 we transitioned from crying to smiling (with the promise of a LOT of bribes).